I have talked about Albert here before and while it's a wonderful app that creates savings from money you didn't even know you had, it doesn't do much past that. Not that that's a bad thing, it's just I had $940 sitting in yet another app and I've heard that you're supposed to make money work for you. That's when I decided to check out Simple as I'd read reviews and it seemed to be a pretty risk-free proposition.
Simple offers all sorts of tools that normal banks have BUT they offer a high savings rate better than any brick and mortar bank can. Up to $10,000 in your savings account and you will get a 1.75% interest rate. Past that it's 1.90% which is a pretty good deal for a free bank account. We keep an emergency fund of $1,000 in our savings account and want to know the interest we earned on it last year?
A whopping 13 cents. That's what.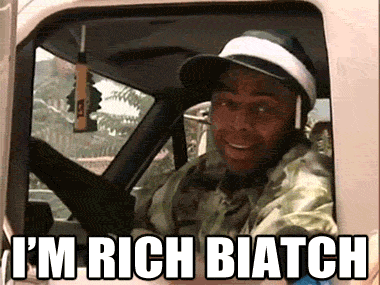 Now I'm not saying that I will get a HUGE amount back from this new Simple account but it will certainly be more than I'm currently getting so why the fuck not? Simple also gives you a debit card that you can use for free at any ATM and that you can use for purchases if you transfer your money into your "Safe To Spend" account (ideal for that vacation we're saving for).
Signing up on the site was easy (you have to be a U.S. citizen to use it though which surprised me as that's not the case for most banks) and connecting my BofA account was quick and painless. The part that was a bit complicated (and no fault of Simple's) was that Albert can only connect to one bank account so I had to transfer my Albert savings to my BofA savings account and then into the Simple account I'd just opened. The transfer also took a few days so if you're super gung-ho about this, be prepared to turn down the enthusiasm a few notches until your money is where you need it to be.
The debit card took a week to arrive so now I'll be doing a full transfer of my emergency savings from BofA now that I can access it with the Simple Debit card in an emergency. However, that squealing noise that's happening every time I brake recently isn't giving me the confidence that our savings will remain intact.
Who needs operable brakes anyway? Live life on the edge!
I'll add updates in the future if this does something other than make a few cents but I'm up for trying anything right now. If you have apps that you use to make your money work for you, let us know in the comments! – FemaleGG
A blog/website where these happily married, 30-something parents of 2 little minions rant, rave, and speak in tongues. Raw, honest, and riddled with profanity. Get on board and let's make The Ghost Generation awesome together! http://theghostgeneration.com Twitter.com/Gh0stGeneration